About the Programme
In the spring of 2009 the US division of Novo Nordisk, a worldwide healthcare company specializing in diabetes care, contacted IFSHT to donate more than 200 hand dynamometers which had been briefly used in a study. We are also grateful to the American Academy of Family Physicians for their donation of some additional dynamometers.
IFSHT, in turn, donates these dynamometers to countries where dynamometers may not be readily available. They are taken to the countries by hand therapists who are visiting the country and have contact with local therapists.
How to Apply
If you are travelling, for work or leisure, to a part of the world where you feel a dynamometer might be welcome, please contact the IFSHT Secretary General who will try to arrange for a dynamometer for you to take.
Currently, there are dynamometers held in Australia, Europe and the US to enable easier shipment.
Donation Letter
Letter of Reciept
Previous Recipients
IFSHT dynamometers have been distributed to therapists in:
Bangladesh
Bhutan
Burma
Cameroon
China
Ecuador
Estonia
Ethiopia
Guatemala
Haiti
India
Kenya
Kosovo
Mongolia
Nepal
Nicaragua
Philippines
St. Lucia
South Africa
Sudan
Sri Lanka
Thailand
Vietnam
Zimbabwe
IFSHT also donated dynamometers to Health Volunteers Overseas who send therapists to a variety of countries.
2018
Megan Blakeway from the UK travelled to Zimbabwe and delivered two dynamometers. A full report including lovely photos is attached below.
2015
Students from the Grand Valley State University travelled to Zacapa, Guatemala with two dynamometers. A report from this trip is attached below.
2013
GICAM (Italian Group of Friends of Hand Surgeons) took an IFSHT dynamometer to Ghana on a hand surgery and hand therapy health care provision trip.
Travelling with GICAM, Fimke Donati, from Switzerland, uses a dynamometer at St Joseph's Hospital in Koforidue, Ghana.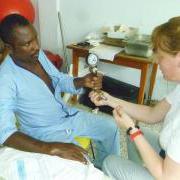 Sanjean Taylor, from Barbados, is seen in this photograph of a newspaper article about her dynamometer delivery from Catherine Reaves.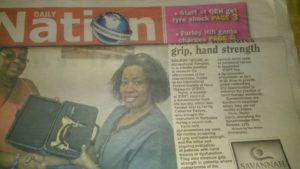 Gemma Atkinson, OT Student from the UK delivered a dynamometer to a hand therapy clinic in Bangladesh (see photo below)