IFSHT/IFSSH Triennial Congress Grant - Washington, D.C. 2025
About the Award
IFSHT has limited designated funds available to provide partial financial support for therapists to attend the IFSHT Triennial Congress. Therapists from countries with limited resources and those who are presenting at the congress are given priority. Applications for the IFSHT/IFSSH Triennial Congress Travel Bursary will be available in the run up to the Congress. The Application deadline is 9 months prior to the Congress.
PURPOSE
This grant is designated to provide financial support for therapists to attend the IFSHT Triennial Congress. Any qualified occupational or physical therapist with an interest in the area of hand therapy may apply. The applicant must have at least two years of experience in hand therapy. Preference will be given to applicants who are invited speakers and from IFSHT member countries. Applications from other professionals who are invited IFSHT Congress speakers are also eligible to apply.  This may include keynote speakers that are OT/PT's but hand therapy is not their specialty and they may not be from a member country.
GRANT
Recipients receive financial assistance towards specific Congress expenses.  Recipients are reimbursed after the congress has been completed.  They therefore must be able to incur the initial expense.
Recipients will provide the IFSHT Treasurer with requested banking information and receipts as evidence of the expense having been incurred before any reimbursement is completed.
FUNDING
Funding of this grant is through:
money raised at the previous Triennial Congress Silent Auction (supports speakers)
the generous support of IFSSH
and additional donations
In order to benefit as many therapists as possible, preference will be given to applicants who require only partial support to attend the IFSHT Congress.
How to Apply
ELIGIBILITY
Demonstrated leadership skills in his/her own country.
A letter of support from a professional colleague supporting your application and leadership skills.  This may be the same person that provides a letter of recommendation.
Contributed to hand therapy knowledge through publications, research, or educational events.
Actively participate in the hand therapy society or promoted the founding of a hand therapy society in his/her country.
Be available to travel to the next IFSSH/IFSHT Triennial Congress.
Return to their country and share their newfound knowledge with fellow therapists.
Applicants from countries with low Gross Domestic Product (GDP) or currency challenges will be given preference.
Delegates from Full Member Countries are low priority for this grant unless they are from a low GDP country.
Therapists from the congress host country may not apply.
Keynote speakers.  A host society can apply for the funds for a specific keynote speaker.
PROCEDURE
Provide the details of a professional colleague who can support this application.
Provide a copy of their diploma as an Occupational or Physical Therapist-Physiotherapist.
Submit a letter of recommendation with their application from either an individual therapist from an IFSHT member country, from their own country's hand therapy society (if a member society of IFSHT), or from an employer or physician/surgeon if the applicant is from a country without IFSHT or IFSSH membership.
The grant recipients are responsible to obtain a VISA at least 6 months prior to travel.
The grant application deadline is approximately 9 months prior to the Congress.
Applicants and their supporting person should complete the application on the following two pages and submit it along with the required letter of recommendation and a copy of the applicant's diploma.
DEADLINE FOR APPLICATION
(Please note that the form is only accessible to logged-in IFSHT website users – please login or create an account, to access the form)
APPLY
How to Donate
Funding of this grant is through money raised at our previous Triennial Congress Silent Auction and additional donations.
All donations to this grant will be fully acknowledged at the triennial meeting and also acknowledged on the website (unless specifically requested as an anonymous donation).
A PayPal donation option specifically for this award is available. Please click on the "Donate" button below. For further details on how you can donate by bank check or wire transfer please contact the IFSHT Treasurer.
Thanks for your support.
Thank you also to IFSSH for supporting this fund.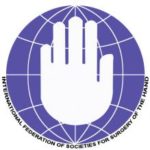 Donate
Previous Recipients
2019 – IFSHT/IFSSH Triennial Congress Travel Grant – Berlin
The Triennial Congress Travel Award designated funds to assist 18 therapists to attend the Congress in Berlin. This included three from Czech Republic, two from India, two from Iran, two from the USA, Australia, the UK, Ghana, Turkey, Nepal, Ireland, Kuwait, Spain and Thailand.
2016 – IFSHT/IFSSH Triennial Congress Travel Grant – Buenos Aires
The Triennial Congress Travel Award designated funds to assist 17 therapists to attend the Congress in Buenos Aires. This included two from Brazil, five from Columbia, two from South Africa and one from each of Australia, Czech Republic, Estonia, Iran, Kenya, Spain, UK and Venezuela.
2013 – IFSHT/IFSSH Triennial Congress Travel Grant – Delhi
For the 2013 Congress we were able to designate funds for assistance for ten international therapist registrations. This included three therapists from Argentina, two Indian therapists studying abroad and one therapist each from Canada, UK, USA and The Netherlands.