IFSHT Evelyn Mackin Congress Grant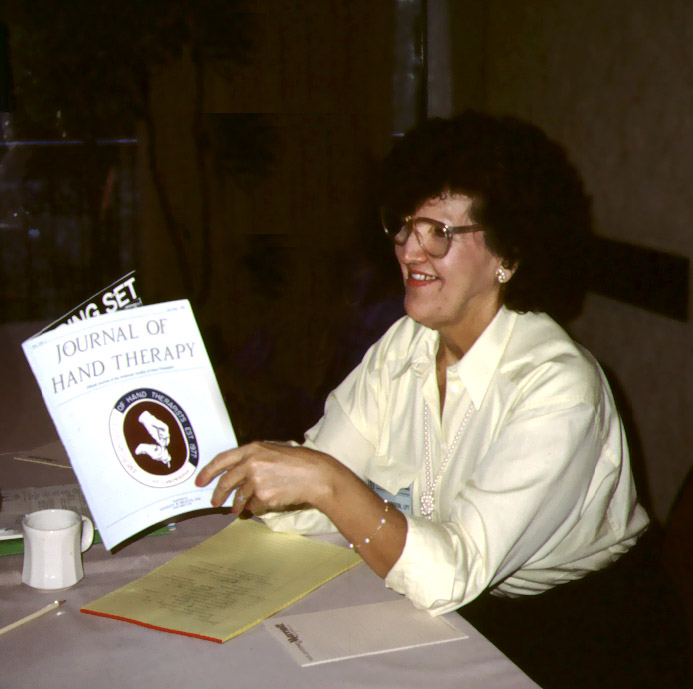 About the Award
This triennial congress grant was established in 2010 to honour Evelyn Mackin, the first president of IFSHT and a leader in the development of hand therapy worldwide.
PURPOSE
This grant supports an emergent hand therapist from a country without a formal hand therapy association / not a Full member of IFSHT. The recipient is someone who is a potential leader of hand therapy in their country, who may otherwise not have the resources to attend. Applicants for this grant must not be receiving funds from another source.
The recipient of this grant is fully funded to attend the IFSHT Triennial Congress; providing an opportunity to further expand their knowledge and networking in hand therapy.
GRANT
The recipient receives all expenses paid to attend the next IFSHT Triennial Congress.
The recipient is identified at the IFSHT Triennial Congress, in IFSHT publications, and on the IFSHT website as the Evelyn Mackin Triennial Grant recipient.
FUNDING
This grant is funded through donations to the IFSHT Evelyn Mackin Triennial Congress Grant. All donors to this grant will be acknowledged at the triennial congress and our congress website unless they request an anonymous donation. We are grateful to IFSSH for their continuing support of this fund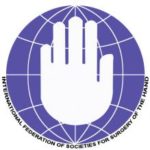 TRIBUTE
Please see base of the page for a tribute to Evelyn Mackin
How To Apply
ELIGIBILITY
The grant is given to a Physical or Occupational Therapist working in a country that is not a Full or Associate Member in IFSHT. The therapist must have demonstrated one or more of the following:
A strong interest in Hand Therapy.
Efforts to specialize in Hand Therapy.
Leadership in developing Hand Therapy as a specialty practice area in his/her country.
Preference is given to those whose economic status makes self-funding challenging/impossible.
Candidates must have basic written and spoken English comprehension to assist in the application process and to understand and communicate with others at the IFSHT Triennial Congress.
The selected grant recipients agree to attend the IFSHT Congress in its entirety.
The recipient is only eligible for receipt of this grant once.
IDENTIFICATION OF GRANT CANDIDATES
Hand Surgeons who are members of IFSSH but are without an organized Hand Therapy society in their country may nominate candidates
Grant candidates can be from countries who are Corresponding Members of IFSHT (with preference given to countries with financial challenges)
Hand therapists who have visited and/or worked with hand therapists in a qualifying country may nominate a candidate.
PROCEDURE
The nominating person completes the application with the candidate and forwards this to the IFSHT Secretary-General no later than 9 months prior to the IFSHT Congress.
All grant candidates and their nominating person will be notified by IFSHT no later than 7 months prior to the congress.
The grant recipients are responsible to obtain a VISA at least 6 months prior to travel
DEADLINE FOR APPLICATION
24 June 2024
* Please note that the form is only accessible to logged-in IFSHT website users – please log in or create an account, to access the form.
APPLY
How to Donate
Thank you to all our sponsors of the Evelyn Mackin congress grant. Sponsors included Hand Rehabilitation Foundation (USA), HandLab (USA), Hand Therapy Certification Commission (HTCC) and MANY Individual Hand Therapists from all corners of the world. At the age of 90 Evelyn Mackin, the first President of IFSHT, attended the congress and was honoured by IFSHT and IFSSH at the Reflections of Legends Session.
To donate to this worthy cause please click the button below
Donate
Tribute
IFSHT announces the passing of its founder and first president (1986-92): Evelyn Mackin, PT, February 2020 in Pennsylvania, USA. Ms. Mackin created many other worldwide educational opportunities for hand therapists that continue today. She was a founding member of the ASHT, first organizer of the Philadelphia Hand Meeting, founder and first editor of the Journal of Hand Therapy (1987-98) and one of the first editors of the well-known text "Rehabilitation of the Hand and Upper Extremity."
Her motto was: "Pass it on," and she lived this through her endless contributions in sharing hand therapy knowledge and skills worldwide.
Ms. Mackin was awarded the IFSHT Lifetime Achievement Award at the most recent IFSHT Congress in Berlin in 2019. IFSHT continues to recognize her many contributions through the Evelyn Mackin Triennial Award, established in 2010, supporting therapists from developing countries to attend IFSHT Triennial Congresses.
Please see full tribute below.
Tribute
Previous Recipients
2022-Four award winners:
Akisi Dovibua, Fiji
Fatemah Alashatti, Kuwait
Georgi Petrov, Bulgaria
Tshering, Dorji, Bhutan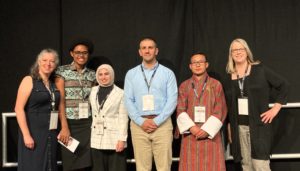 These winners are shown in the photograph in this order (left to right) with Nicola Goldsmith, President on far left and Peggy Boineau, President-elect on far right.
2019-Four award winners:
Marta Jokiel, Poland
Liis Lamson, Estonia
Tsitsi Murove, Zimbabwe
Gangtey Yoedzer, Bhutan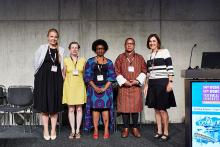 These winners are shown in the photograph in this order (left to right) with Anne Wajon, Immediate Past President IFSHT.
2016-Five award winners:
Marcela Antunez
Gabriela Granados Garcia
Patricia Llaguno
Jose Ma. Rafael Ramos
Tarannum Siddiqui
2013-Five award winners:
Apsara Ghirmire
Kalyani Hemalatha
Sokny Leang
Sumanta Ray
Yuting Zhang