Memberships & Associated Organisations
Nepal
Nepalese Society for Hand Rehabilitation & Research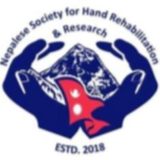 | | |
| --- | --- |
| Number of Members: | 12 |
| Established: | 2018 |
| Address: | Mahalaxmisthan-5, lalitpur Nepal |
About Nepalese Society for Hand Rehabilitation & Research
Nepalese Society for Hand Rehabilitation & Research, NSHRR is a non-profit organizaion established in 2018. It was founded by MS. Tarannum Siddiqui, Physiotherapist and 8 other executive members.
Board mebers are:
Ms. Tarannum Siddiqui ( President), Physiotherapist
Ms. Ganga Shakya (Vice President), Physiotherrapist
Mr. Bibek Ghimire ( Secretary), Physiotherapist
Mr. Binay kandel (Treasurer), Physiotherapist
Mr. Pravin Kumar Yadav ( Ex. member, Physiotherapist
Ms. Nhashala Manandhar ( Ex. member), Physiotherapist
Ms. Shailja Sharma (Ex. Member), Occupational Therapist
Ms. Nirja Shrestha (Ex. Member), Physiotherapist
Ms. Amrita shrestha (Ex. Member), Physiotherapist
Aim: To promote and provide qualitative hand rehabilitation education.
Announcements
Call for volunteer International speaker and organization for workshop, webinar, seminar and conferences.
Find a Hand Therapist Contact
If specified below, person willing to receive requests from therapists around the world wishing to locate a hand therapist in this country to treat a patient of theirs.