Memberships & Associated Organisations
International Federation of Societies for Surgery of the Hand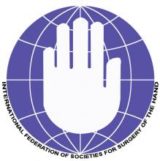 IFSSH (International Federation of Societies for Surgery of the Hand) was formed in 1966 to co-ordinate activities of the Hand Surgery Societies around the world thereby increasing and spreading knowledge of surgery of the hand.
IFSSH aims to improve and widen opportunities for study and observation in various countries, promote sharing of nomenclature, classification and standards and promote free exchange of knowledge around the world.
IFSHT is proud to work closely with IFSSH, particularly at the Triennial Congresses.
Ezine, the quarterly digital publication for IFSSH has some very useful articles for hand therapists and each edition can be downloaded from their website.